Corporate sustainability is social responsibility
It might be impossible to create a balance in the world that provides a good living for everyone as a single individual. This must be a dream for everyone. No matter what continent you live in. Yet, small dreams can contribute to a larger goal. We can all do something small and by that create a more equal world one small step at a time.
Sustainable shopping is not possible with plastic packaging
Besides the material of the sock itself we also think about other details of the product as a whole. We do not want our socks to be packaged in plastic and we do not use bleached paper for our labels. As Star Sock, producer of socks, we are committed to only produce and sell products in such a sustainable manner by 2020. Self-evidently, we try to use the most environment-friendly type of packaging and transport when shipping our products.
Everyone is better off with our socks
Clothing is not always made under good conditions. We believe that a sock isn't truly sustainable until the work environment is good as well. That is why our factories indulge in good working conditions, comfortable working environment and fair pay. This way everybody experiences improvement.
Fair Wear Brand Perfomance Check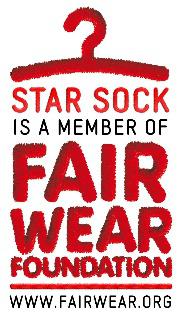 Healthy Seas Socks stands for better worldwide improvements in working conditions within the textile industry. In order to accomplish that, we have become a member of the Fair Wear Foundation. The foundation requires you to make longterm improvements within management and local production processes. Since February 2015 we have been accepted as a Fair Wear member. Among other things, the basis for our Fair Wear approval was a very strict selection process of factories. Read more about our methods and how Fair Wear assessed us in the brand performance report.
Social report
Taking significant steps into a greener future and corporate sustainability. That is what we work very hard on each and every year. Want to know what we've been working on in the past year? Read our Social Report of 2019.